How to turn your girl into a rubber fetishist? We all want our partner to share our hobbies, and more when it is something as cool and sexual as latex, but I have met many men who find it difficult to find a girl that like or have had problems at share it with their partners.
This week I've been doing some research on what are the most common reasons why girls refuse to try latex, because as a girl I also had some prejudices and complexes before trying the latex but once overcome I enjoy both latex and company of my rubberized husband so is normal that I want to convert to all this vice. In FETLIFE you can read some opinions that have helped me with this post.
I want to make it clear that my intention is not to force, nor you force, anyone to use latex and the result will also be the opposite of expected, but give arguments and methods to take the step and enjoy the process and share it with the couple, friends or fellow fetishists.
EACH HAS ITS OWN RHYTHM
The feeling that the latex causes is very extreme, and can overcome someone who is not accustomed. Try small items: gloves, panties (which are also used in privacy), mini skirt … before throwing it into a catsuit.
MY FLABS
The most common prejudice I have come across is not about latex, but about ourselves. We imagine that we will look fatter when it is the opposite, the latex tightens and can mold the body better than any other material!! Personally when I tried my first catsuit I had a big surprise.

f442fa4b. ATSUKO KUDO (Lady Gaga latex designer) [/ caption] ATSUKO KUDO (Lady Gaga latex designer) [/ caption]
THE FORMS
If it is not appropriate, by its color or pattern or size causes the body to deform in the worst way. At this point it is best to ask the girl first (we usually know what it feels like, but it is not always the case) and second to the customer service of the latex stores, which are usually very nice and advise very well . In addition, we can make the garment to measure.

PROSTITUTE, ACTRESS PORNO, CLOWN
Maybe your girl doesn't like latex if does not like the same clothes as you. She should start with clothes that she likes, although you are very excited to her to wear a corset and stockings, if the first garment she wear does not excite her, you will have a bad experience.
In addition, latex has been closely related to BDSM, porn movies, … may feel unsightly or ridiculous, so choose more fashion and you can show her pictures of the number of artists who use latex: Lady Gaga, Ariana Grande, Katy Perry …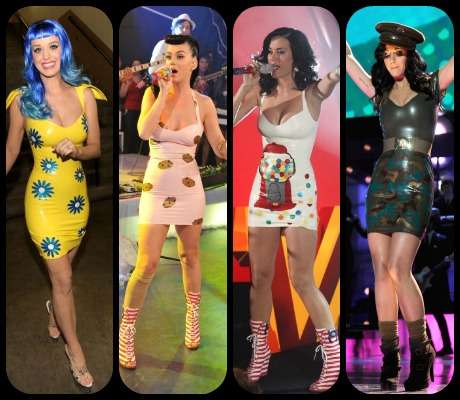 SUMISA OR DOMINATRIX?
Neither things. Explain exactly what you would like to do with it (if you think it is too weird you can give information little by little and see how it reacts), ask what idea you have and what it would like to do. In overview: communication, communication, communication.
WHERE TO BUY?
Next here you have some pictures (click to go to the web) of some models of the stores I've seen more fashion.

ATSUKO KUDO (Lady Gaga latex designer)[/caption]
KAORIS DREAMS[/caption]
I hope you have been helpful, you can comment on your experiences.